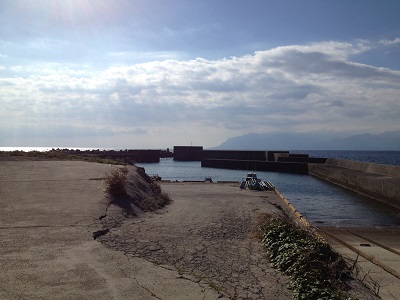 Tanegashima Fishing

Aside from surfing, fishing is one of the reasons why people from all over Japan come to Tanegashima. During our years on the island, we caught a very diverse range of fish.

According to the locals though, the fishing has become progressively worse over the years. No doubt due to global warming and the excessive use of fertilizers by the island farmers which invariably end up draining into the fishing spots along the coast. That said, it is still possible to fill your cooler with tasty fish on a good day and if you know where to fish.
Horizontal Red Lines

- These denote the approximate coastal boundaries of:
Nishinoomote city to the north
Nakatane town in the middle
Minamitane town to the south

Vertical Red Lines

- These denote the approximate boundaries of east and west used on this map.

Red Numbered Fish

- These show the approximate locations of fishing piers on Tanegashima.

Find Your Fishing Spot

- Look on the map and find a place (fish) where you want to go fishing and match the location and number with a link in the table above. Click the link for more specific information about that fishing spot.
Additional Information
Total Fish Caught



The 2014 fishing season finished with over 25 different types and a grand total of 337 fish caught. The total for the 2015 season was 408 fish. (see tables below)



Picture

- Spotted knifejaw.

We tried to eat many of them, and aside for a few, most were pretty good.
Total Fish Caught on Tanegashima for 2014

Day

Date

Location

Information

Today

Total

1
9/7/2014
Minamitane-W-1
Indo-Pacific Sergeant 5
5
5
2
9/8/2014
Minamitane-W-6
Black-Stripe Sweeper 15, Bigeye Trevally 4
19
24
3
9/9/2014
Minamitane-W-6
Black-Stripe Sweeper 3, Bigeye Trevally 1
4
28
4
9/10/2014
Minamitane-W-6
Black-Stripe Sweeper 4, Bigeye Trevally 2, Spotted Knifejaw 1, Yellowfin Goatfish 1
8
36
5
9/11/2014
Minamitane-W-6
Black-Stripe Sweeper 3, Indo-Pacific Sergeant 1, Brassy Chub 1
5
41
6
9/12/2014
Minamitane-W-6
Indo-Pacific Sergeant 1, Bigeye Trevally 1
2
43
7
9/14/2014
Minamitane-W-6
Bigeye Trevally 1
1
44
8
9/18/2014
Minamitane-W-6
Indo-Pacific Sergeant 3, Bigeye Trevally 1, Girella Leonina 1, Barcheek Trevally 1
6
50
9
9/22/2014
Minamitane-W-6
Black-Stripe Sweeper 7, Bigeye Trevally 3
10
60
10
9/25/2014
Minamitane-W-6
Bigeye Trevally 1
1
61
11
9/26/2014
Minamitane-W-6
Indo-Pacific Sergeant 18, Bigeye Trevally 10, Black-Stripe Sweeper 2, Yellowfin Surgeonfish 1
31
92
12
9/27/2014
Minamitane-W-6
Indo-Pacific Sergeant 5
5
97
13
9/28/2014
Minamitane-W-6
Barcheek Trevally 1, Black-Stripe Sweeper 1, Girella Leonina 1
3
100
14
9/29/2014
Minamitane-W-6
Indo-Pacific Sergeant 18, Black-Stripe Sweeper 6, Bigeye Trevally 3, Barcheek Trevally 1, Girella Leonina 1, Indian Goatfish 1, Brassy Chub 1
31
131
15
9/30/2014
Minamitane-W-6
Indo-Pacific Sergeant 8, Bigeye Trevally 2, Black-Stripe Sweeper 2, Indian Goatfish 2, Girella Leonina 1
15
146
16
10/1/2014
Minamitane-W-6
Indo-Pacific Sergeant 2, Indian Goatfish 2, Spottedtail Morwong 1, False Kelpfish 1, North Pacific Squirrelfish 1
7
153
17
10/2/2014
Minamitane-W-6
Indian Goatfish 1, North Pacific Squirrelfish 1
2
155
18
10/3/2014
Minamitane-W-6
2 days before typhoon
0
155
19
10/8/2014
Minamitane-W-6
Black-Stripe Sweeper 4, Girella Leonina 2
6
161
20
10/9/2014
Minamitane-W-6
3 days before typhoon
0
161
21
10/15/2014
Minamitane-W-6
Indo-Pacific Sergeant 1, Japanese Jack Mackerel 1, Unknown 1
3
164
22
10/16/2014
Minamitane-W-6
Indo-Pacific Sergeant 1, Barcheek Trevally 1
2
166
23
10/17/2014
Minamitane-W-6
Painted Sweetlips 1, Russell's Snapper 1, Indo-Pacific Sergeant 1,
3
169
24
10/18/2014
Minamitane-E-3
Blackspot Sergeant 1, Girella Leonina 1
2
171
25
10/20/2014
Minamitane-W-6
Indo-Pacific Sergeant 22, Barred Knifejaw 1
23
194
26
10/21/2014
Minamitane-W-6
Indo-Pacific Sergeant 4, Thalassoma Cupido 1
5
199
27
10/22/2014
Minamitane-W-6
Indo-Pacific Sergeant 2, Girella Leonina 1
3
202
28
10/23/2014
Minamitane-W-6
Indo-Pacific Sergeant 10, Girella Leonina 1, Barcheek Trevally 1
12
214
29
10/24/2014
Minamitane-W-6
Indo-Pacific Sergeant 18, Indian Goatfish 1, Black-Stripe Sweeper 1
20
234
30
10/25/2014
Minamitane-W-6
Indo-Pacific Sergeant 10, Oriental Butterflyfish 1, Brassy Chub 1
12
246
31
10/27/2014
Minamitane-W-6
Black-Stripe Sweeper 6, Bigeye Trevally 1
7
253
32
10/29/2014
Minamitane-W-6
Indo-Pacific Sergeant 4, Indian Goatfish 2, Black-Stripe Sweeper 2
8
261
33
10/30/2014
Minamitane-W-6
Indo-Pacific Sergeant 5, Brassy Chub 1, Black-Stripe Sweeper 1
7
268
34
10/31/2014
Minamitane-W-6
Indo-Pacific Sergeant 3, Bigeye Trevally 2, Black-Stripe Sweeper 1
6
274
35
11/4/2014
Minamitane-W-6
Flathead Grey Mullet 1, Blackhead Seabream 1, Bigeye Trevally 1
Shai caught a 33 cm Flathead Grey Mullet.
3
277
36
11/5/2014
Minamitane-W-6
Indian Goatfish 1, Flathead Grey Mullet 1, Bigeye Trevally 1
I caught a 41 cm Indian Goatfish and a 32 cm Flathead Grey Mullet.
3
280
37
11/7/2014
Minamitane-W-6
Black-Stripe Sweeper 13, Indo-Pacific Sergeant 3, Bigeye Trevally 1
17
297
38
11/9/2014
Minamitane-W-1
Indo-Pacific Sergeant 19, Large Toothed Cardinalfish 1, Gracile Lizardfish 1, Japanese Gregory 1
22
319
39
11/15/2014
Minamitane-W-6
Indo-Pacific Sergeant 2
2
321
40
11/16/2014
Minamitane-W-6
Really calm ocean and almost no wind but low tide.
0
321
41
11/18/2014
Minamitane-W-6
Sunny and warm and high tide but no fish biting.
0
321
42
11/19/2014
Minamitane-W-6
Indo-Pacific Sergeant 1, Barcheek Trevally 1
2
323
43
11/20/2014
Minamitane-W-6
False Kelpfish 2, Half Lined Cardinal 2, Star Snapper 1
5
328
44
11/21/2014
Minamitane-W-6
Black-Stripe Sweeper 3, Half Lined Cardinal 1
4
332
45
11/23/2014
Minamitane-W-6
Half Lined Cardinal 1, Eeltail Catfish 1
2
334
46
11/24/2014
Minamitane-W-6
Indian Goatfish 1, Black-Stripe Sweeper 1, Eeltail Catfish 1
3
337
Total Fish Caught on Tanegashima for 2015

Day

Date

Location

Information

Today

Total

1
3/21/2015
Minamitane-W-6
Indo-Pacific Sergeant 1, Girella Leonina 1, Flathead Grey Mullet 1
3
3
2
3/30/2015
Minamitane-W-6
Blue Mackerel 10
10
13
3
5/6/2015
Minamitane-W-6
Flathead Grey Mullet 1
1
14
4
5/7/2015
Minamitane-W-6
Indo-Pacific Sergeant 5, Unicorn fish 1
6
20
5
5/21/2015
Minamitane-W-1
Indo-Pacific Sergeant 17, Pacific Drummer 1, Unknown small fish 1
19
39
6
5/22/2015
Minamitane-W-1
Indo-Pacific Sergeant 20, Stripey 2
22
61
7
5/25/2015
Minamitane-W-1
Blue Mackerel 26, Indo-Pacific Sergeant 6, Stripey 1, Round Herring 1, Mottled Spinefoot 1, Nagasaki Damsel 1, Unicorn fish 1
37
98
8
5/26/2015
Minamitane-W-1
Blue Mackerel 5
5
103
9
5/27/2015
Minamitane-W-1
Blue Mackerel 14, Indo-Pacific Sergeant 1
15
118
10
5/29/2015
Minamitane-W-1
Blue Mackerel 9, Indo-Pacific Sergeant 6, Nagasaki Damsel 1, Stripey 1
17
135
11
6/1/2015
Minamitane-W-1
Indo-Pacific Sergeant 16, Blue Mackerel 7, Nagasaki Damsel 1, Stripey 1
25
160
12
6/2/2015
Minamitane-W-1
Blue Mackerel 43
43
203
13
6/3/2015
Minamitane-W-1
Blue Mackerel 30, Indo-Pacific Sergeant 1
31
234
14
6/4/2015
Minamitane-W-1
Blue Mackerel 13, Indo-Pacific Sergeant 3
16
250
15
6/6/2015
Minamitane-W-1
Blue Mackerel 49, Kanpachi 1
50
300
16
6/7/2015
Minamitane-W-1
Blue Mackerel 108
108
408
Tanegashima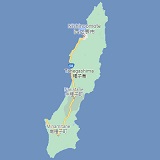 Weather
Tuesday

+

52°

+

36°

Thursday

+

53°

+

45°

Friday

+

48°

+

40°

Saturday

+

50°

+

34°

Sunday

+

53°

+

38°

Monday

+

56°

+

42°
Surf