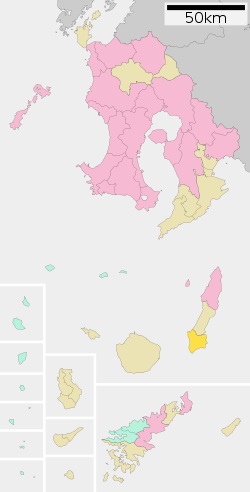 Minamitane Town



Minamitane (南種子町 Minamitane-chō) is a town (dark yellow on the map) located on Tanegashima, in Kumage District, Kagoshima Prefecture, Japan. As of June 2013, the town has an estimated population of 5,925 and a population density of 53.8 persons per km². The total area is 110.40 km². The headquarters of the Japan Aerospace Exploration Agency is located at the Tanegashima Space Center in Minamitane.

Minamitane is located on the southern end of Tanegashima, bordered by the East China Sea to the west and the Pacific Ocean to the east, and the town of Nakatane to the north.

The climate is classified as humid subtropical (Köppen climate classification Cfa) with very warm summers and mild winters. Precipitation is high throughout the year, but is highest in the months of May, June and September. The area is subject to frequent typhoons.

Minamitane Village was established on April 1, 1889. It was upgraded to town status on October 15, 1956.
Districts



Minamitane town encompasses seven separate districts including: Hirayama, Kukinaga, Nakanokami, Nakanoshimo, Nishino, and Shimama. The districts are listed in alphabetical order and the maps show the district boundaries.
Hirayama District



The Hirayama district covers the northeast corner of Minamitane town.
Kukinaga District



The Kukinaga district covers the southeast corner of Minamitane town.
Nakanokami District



The Nakanokami district covers the middle section of Minamitane town extending to the west coast of Tanegashima and includes most of the facilities in the town.
Nakanoshimo District



The Nakanoshimo district covers the south central section of Minamitane town.
Nishino District



The Nishino district covers the southwest corner of Minamitane town.
Shimama District



The Shimama district covers the northwest corner of Minamitane town.

Minamitane Town Information





Graphic

- Minamitane town seal and flag.
Geographic Coordinates:

30°23′53″N 130°54′31″E



Country:

Japan



Region:

Kyushu (Ōsumi Islands)



Prefecture:

Kagoshima Prefecture



District:

Kumage



Area Total:

110.40 km2 (42.63 sq mi)



Population (June 1, 2013) Total:

5,925



Population (June 1, 2013) Density Total:

53.7/km2 (139/sq mi)



Time zone:

Japan Standard Time (UTC+9)



Tree:

Myrica rubra



Flower:

Hibiscus



Phone number:

0997-26-1111



Address:

2793-1 Nakanoue, Minamitane-chō, Kumage-gun, Kagoshima-ken 891-3792
Tanegashima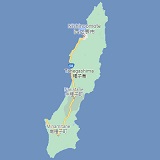 Weather
Tuesday

+

52°

+

36°

Thursday

+

53°

+

45°

Friday

+

48°

+

40°

Saturday

+

50°

+

34°

Sunday

+

53°

+

38°

Monday

+

56°

+

42°