Tanegashima Farming



Farming is by far the main activity on the island. Without knowing the actual figures, a good guess would be that at least 70 percent of the residents are engaged in some kind of food production.



Picture

- One of our crazy Minamitane farms from a few years ago.

The main products produced are anno imo sweet potatoes and sugarcane.

We are now farming at our home, at a huge farm a couple of kilometers from our house, and at our 4.5 acre mountain wilderness agroforest. Much more about all this coming soon.
Tanegashima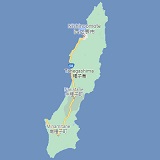 Weather
Tuesday

+

52°

+

36°

Thursday

+

53°

+

45°

Friday

+

48°

+

40°

Saturday

+

50°

+

34°

Sunday

+

53°

+

38°

Monday

+

56°

+

42°
Surf